Clare's commercial portfolio showcases her depth of work within the TV, Film, Fashion and Beauty industry. She enjoys working on creative projects and using a wide range of cosmetic textures and colours to produce a high standard of work.
She is able to create a variety of make-up looks from the very natural, camera ready make-up for TV and commercials to more creative looks for music videos, fashion and catwalk make-up.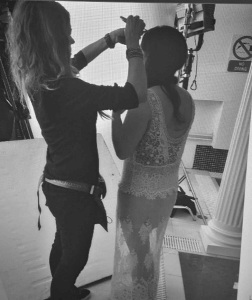 Clare offers clients the following skills:
Make-up
Basic Hair styling (includes hair up but no Avant Garde).
Nails
Body Tanning and contouring for photographic/film
Price – Please enquire via the contact page for half day and full day rates
TESTIMONIAL:
"When writing a testimonial, it is so easy for people to go into auto mode addressing things such as how great a person is at their job, how professional he or she is and how amazing they are at working as a team.
Well Clare will not  disappoint you on any of theses points. But I would expect this from most professional of make-up artists. Clare is so much more then this , she has a dynamite  creative personality and is capable t0 tune into your idea and even transform them.
Clare's organisational skills are a massive advantage to any project that she has and will be involved in, I think this comes from her teaching.  Clare openly shares information and resources with the team and has no problem  seeing the greater picture.  She is refreshingly honest, encouraging, motivated and strongly positively.  Clare will remain my number one call as soon as a new project comes in."
Ed Gregory – Owner of www.iGROOVER.com
"I have used Clare on many corporate and headshot shoots for my photography business over the past 8 years.
Clare is always able to bring out the best in people with her hair and makeup skills and makes it a pleasurable experience in the process for the client, putting them at ease in the process.
I would recommend Clare for all your corporate, fashion and bridal MUA needs"
Toby Phillips – https://tobyphillipsphotography.co.uk